I met Margaret Leng Tan at the National Museum about a decade ago. I'd heard of her because of the documentary Singapore Gaga - how she was John Cage's protégée, how a guy had slammed the door of the concert hall when she first performed 4:33 here, how she'd become a master of the toy piano in New York, how she'd composed work with bamboo clappers to evoke memories of the old kok-kok mee sellers she recalled from her childhood.
None of that prepared me for what I saw tonight.
(Well, except for the fact that she's still got a Suzie Wong bob cut.)
[Source]
You see, I saw this show as essentially a musical performance. New music, yes, but still something I'd have to fake my way through, not being (as I said before) a music person. But Tan freely confessed to me later on that this was theatre as much as music - which was why all of us had a hell of a lot of FUN. 
There were five pieces in this act, each odder than the last:
1. Davis M. Gordon 
Diclavis Enorma (2007)
Motus Perpetuus - Musica Ornata, Passacaglia
For piano, two toy pianos, call bells and tape playback
The first surprise for me with this piece is discovering what toy pianos sound like. I can see why she's drawn to them as instruments: they've got a jangling sound that's reminiscent of harpsichords, but without the timbre and melodiousness we associate with pianos.
Second surprise is discovering that she can play more than one piano at once. The sound kind of moved from happy fairy bells to a storm in a windchime factory.
2. Alvin Lucier
Nothing is Real (Strawberry Fields Forever) (1990)
For piano, teapot (by Ragnar Naess) and miniature sound system
Yeah, Tan played a teapot. I've heard of kettle drums, but this is ridiculous. (Badum-tish.)
Here's how she did it: she played a low, gloomy rendition of Strawberry Fields on the piano. (Is there a word for a non-toy piano? A tool piano?) Then she piped a recording of said piece through a pale turquoise, oddly shaped porcelain teapot, tilting it to the mike, opening and closing the lid, raising and lowering it to amplify and dampen the sound.
3. James Joslin
Hatta (2013)
Written for Margaret Leng Tan
For two toy pianos, chess set, tea set, electric kettle, clock, Cheshire cat
Joslin's a really young composer - just 26 years old when he wrote this! And it's got all the whimsy of a young person, too: it's inspired by Alice's Adventures in Wonderland (the title is the Mad Hatter's new name in the sequel, Through the Looking-Glass), and Tan compliantly wears a Mad Hatter hat for the occasion.
Btw, this is an Asian premiere!
[Source]
The chessboard's between two toy pianos - one white and one red - and she alternates between them, moving chesspieces by dragging them across the corrugated playing board with one hand, the other hand on the keys. (From what I could tell, the moves for the individual pieces were pretty legal. Pawns moved one square at a time, queens and bishops swept across the grid.)
And then she starts making tea. It's an actual electric kettle this time, and the way the water comes to a slow boil as she plinks on the pianos is oddly sensual, almost like a brewing orgasm.
When it's ready, she sets off the clock ticking, pours, stirs vigorously and percussively, and lets the Cheshire cat meow its alarm. Applause.
4. Ge Gan-ru
Wrong, Wrong, Wrong! (2006)
Written for Margaret Leng Tan
A melodrama for voice, self-accompanied by a toy orchestra
A bit of context may be necessary here - Tan actually explained the inspiration for the piece before launching into her solo. Seems that it's inspired by a poem by the Song Dynasty poet Lu You /  陸游, who was forced by his mother to divorce his one true love Tang Wan to marry a more appropriate woman. When his beloved died of heartbreak, he spent the rest of his life writing poems for her.
[Source]
This is the most famous one:
<<钗头凤>>
红酥手,黄縢酒,
满城春色宫墙柳。
东风恶,欢情薄,
一怀愁绪,几年离索,
错,错,错。
春如旧,人空瘦,
泪痕红浥鲛绡透。
桃花落,闲池阁,
山盟虽在,锦书难托,
莫,莫,莫。
Tan didn't like the translation, so she teamed up with composer Ge Gan-ru's wife, Ge Wan-he.
Tan: Between her impeccable Chinese and my impeccable English, I thought we could come up with something better. And I think we did!
WRONG, WRONG, WRONG!
By Lu You (1155 AD)
Her hand rosy, tender,
Pours the yellow t'eng wine,
Spring hues adorn the city,
Willows embrace garden walls.
The East Wind malevolent, [here Tan interjected an explanation that this represents Lu You's awful mother]
Conjugal bliss evanescent.
A heart sorrow-laden
Cruel years steeped in loneliness asunder.
Oh, wrong, wrong, wrong!
Spring as in days of yore,
So wan and wasted is she,
Rivulets of tears drench her pink herchief.
Peach blossoms falling,
Stillness pervades pond and pavilion.
Vows immutable as mountains,
Yet how futile a lovelorn epistle.
Ah, woe, woe, woe!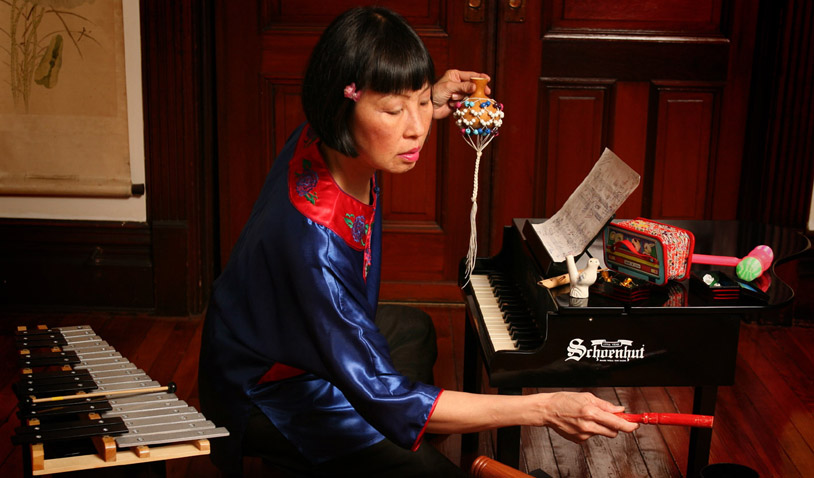 [Source]
The musical piece itself is a really weird work of auto-exoticism. She's clad in a silken samfu top, blowing a whistle and manipulating a miniature accordion, and playing all these ersatz Chinese instruments - a teeny drum with a yin-yang, a zither which she strums with a glass. And she's practically kneeling at the toy piano ("I'm getting too big for all this," she said), crying out the lines in Mandarin in a none-too-melodic voice - operatic, perhaps.
And I'm wondering: do Westerners realise that she's parodying Chineseness, or do they swallow this whole?
Intermission time!
5. Phyllis Chen
Curios (2015)
World Premiere / SIFA Commmission
Written for Margaret Leng Tan
This is the piece featuring the advertised clown image!
The image was just one of several disturbing clown images featured. Trust me, this is not a work for coulrophobes.
The instrumentation for this, by the way, was insane:
i. March 
For tape, video, crank toys, whirlarang and mask
ii. Wunderkammer
For cymbals, gongs, bowls, video and mask
iii. Phantasmagoria
For toy piano, toy psaltery, video and mask
iv. Kassino Interlude
For toy piano sound objects and clown nose
vi. Arlecchino 
For toy piano, mini-pipe organ, bird whistle and chime mask
Yes, there was a little fluffy dog that she hugged as well. The masks were disturbing: one of the them looked like a cross between Loki's mask in, um, The Mask, and the costume of Kickass; the clown nose was upturned displaying nostrils so it looked like a pig-snout.
But don't you think this was just a game of gimmicks (although I have to say the stop-motion animation of a toy-town going to a circus in the initial video was adoooorable). Because there was a real trajectory of emotions going on in this piece, from innocent delight to confusion to melancholia. I'm going to leave the real analysis to someone who is not an idiot about music, of course.
Photo by Michael Dames
[Source]
But on a more concrete note: what does Margaret Leng Tan's performance mean for Singapore today? We're definitely not as developed in terms of new music as we are in theatre - my boyfriend complains that the bloody SSO keeps on playing old fogeys like Bach and Beethoven, and even Anton Berg is considered too daring, too innovative for mainstream audiences.
To me, she represents a path not taken. Why haven't we cultivated an experimental music scene here? Why did we have TheatreWorks doing a multicultural Lear and not, say, MusicWorks doing a postcolonial Figaro?
And yet we do have a music-maker, just as eccentric as she:
[Source]
Bani Haykal's a poet, musician and multimedia-rustler, still in his twenties, who tinkers with electronica and found objects and whatnot and collaborates with punk musicians and filmmakers and theatremakers. And he comes from a very different background from Tan: rather than academic training, he's self-taught, inspired by the memory of his musician dad (I wrote a bit about this here) and sustained by the growth of the 21st century Singaporean indie scene.
And watching this, me and my friends think he and Tan should totally meet up. I mean, I dunno if they'd hate each other's guts or think they're pretentious or something, but we need some kind of cultural transmission to happen.
#TeamMargiHayklengTan!
(I am not good at coining hashtags.)