[Source]
Daniel Buren's the guy behind the Cabanons show, and he's a mega-famous conceptual artist from France. But let's be real here: this was not a conversation. It wasn't even a very good talk. It was just Buren giving us a slideshow of his works, from 1965-2015.
Daniel Buren: I will connect you with time roughly connecting with Singapore's birthday.
Funny guy, occasionally.
So M. Buren's signature motif is alternating stripes: white and coloured, each of a thickness of 8.7cm. He started off making canvas paintings of them in '65...
Peinture acrylique blanche sur tissu rayé blanc et orange (White acrylic painting on white and orange striped fabric), 1966
[Source]
And moved on to doing them in public, on billboards and things, taking back public space Banksy-style.
[Source]
Buren: I found it was more secure to do it during the day. I guess because no-one thought I would do that without permission.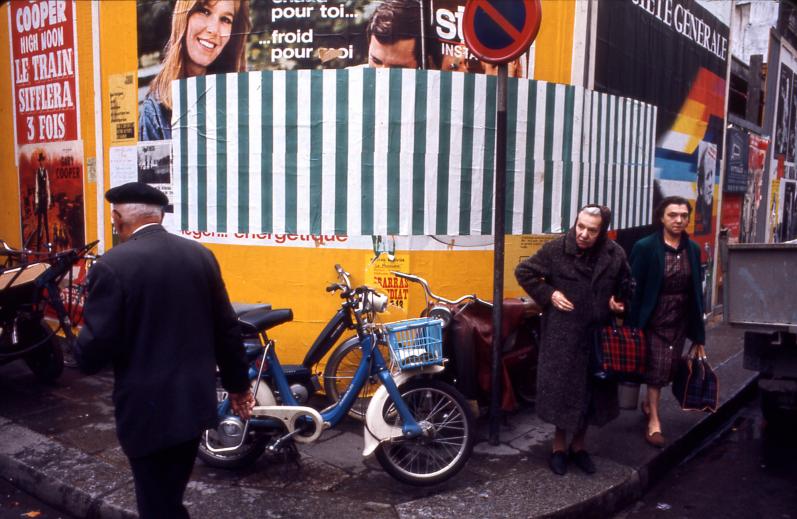 « Affichage sauvage », travail in situ, Paris, avril 1968.
[Source]
The guy even did it in the city of Bern when all his friends were invited for an exhibition with the theme of "freedom".
Buren: And then unfortunately I was trapped by the police, so I finished the show in jail.
He did get invites to do stuff in museums, though – even made a massive wall hanging in the Guggenheim to be shown with Sol DeWitt and Richard Serra, though it was pulled at the last minute (he used the word "censored", but I really can't figure why).
UPDATE: Here's why.
Painting I (1971)
[Source]
But yeah, throughout the '60s and '70s he was all about stripes, stripes, stripes: stripes on walls, stripes hanging from a clothesline, stripes presented by hand by gallery directors, stripes appearing mysteriously on TV news sets…
Can you tell I have some resentment towards Western minimalist abstraction? I do, you know. I really do.
Daniel Buren, Sont présentée des bandes verticales et colorées de 8,7 cm de largeur chacune, 1969,
[Source]
But then he began doing architectural things that were actually cool: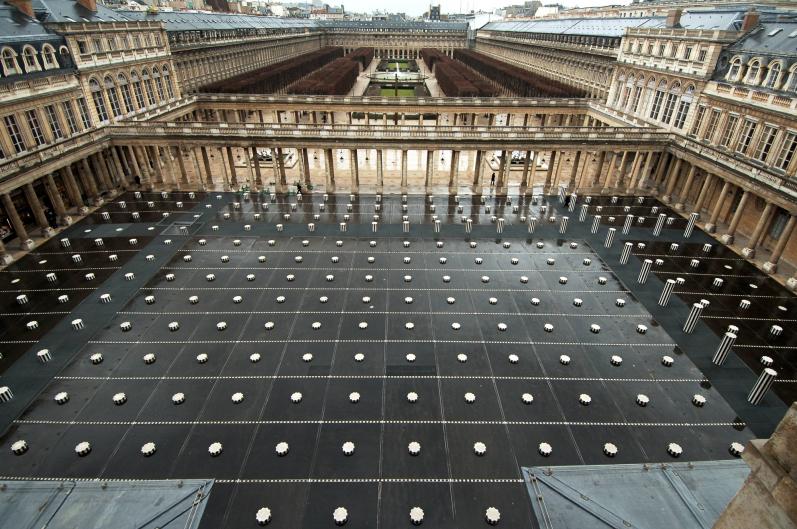 « Les Deux Plateaux », sculpture in situ permanente, cour d'honneur du Palais-Royal, Paris,1985-1986.
[Source]
Arguments topiques", capcMusée d'art contemporain de Bordeaux Bordeaux France (1991)
[Source]
« Around the Corner », work in situ, Guggenheim Museum, New York, 2005.
[Source]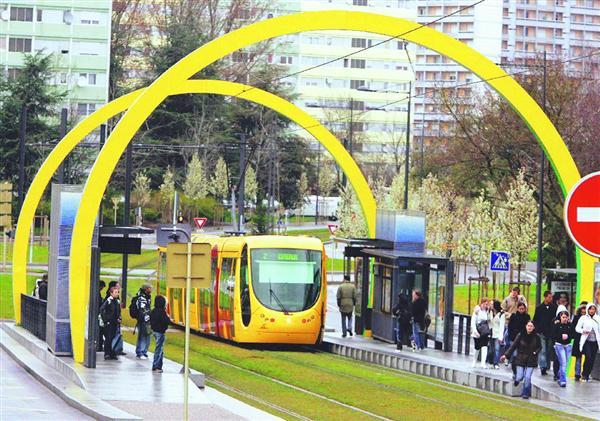 Mulhouse - Les arches de Buren
[Source]
L'arc rouge (the red arch), Guggenheim Bilbao (2007)
[Source]
Comme un jeu d'enfant, work in situ, MAMCS, June 2014
[Source]
... and you can see he's moved from concentrating on stripes to bringing about a sense of play with colour. Which I approve of!
I had to leave around this point because I realised I'd lost my whiteboard marker and had to buy a new one from Popular before Cabanons. No use. Did anyone else know that Popular at Bras Basah closes at 7? >:(