[Source]
This is my third article featuring an interview with Ong Keng Sen, but it's really just a continuation of last week's interview - he moved on from the topic of the role of SIFA to the more hot-button issue of censorship.
OKS: Generally we're getting all our permits two days before the show. I find that really unreasonable. And the consumer is suffering, because we have to call the consumer and say, "It's R18, you can't come in." And it's inconsiderate of the processes consumers have to go through. 
[Source]
OKS: I think what is on point about Kumar's show in heartlands is it's been censored. There's self-censorship; there's fear of repercussions. Who's going to defend Kumar when he's out there on the chopping block? We will, but will these people who say he's quite tame?
And I will say you will get on the chopping block for very minor reasons. You couldn't even show a breast [in the first scene of Nanyang: The Musical]. We were told, "Can you do something about the nude model?" 
And it does bring to the fore… there's a distortion, like textbooks were not allowed to tell the truth. Modern painters started to move away from Chinese paintings because they stated to paint nudes, to use oils, to do what was not allowed before. So it's a totally out of context to ask for the model not to be nude. And if it's like that, then you should censor everything in the National Art Gallery.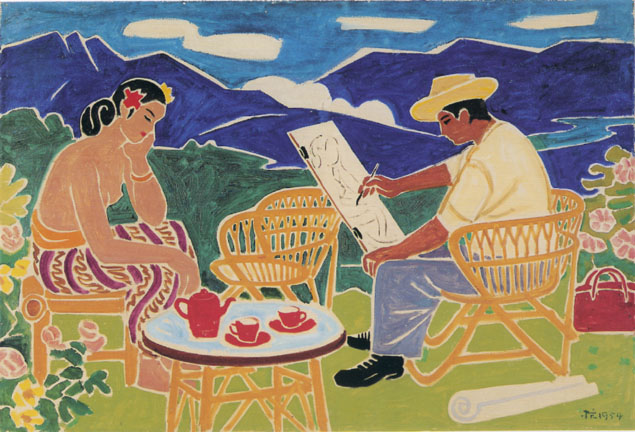 [Source]
OKS: Running the festival with the MDA as a ghost that's directing the whole festival, it's kind of difficult. Because then you find yourself making distortions of art history, and making wrong representations. 
Like that thing about the graphic of Nanyang. This graphic is about a painting that in history got two men executed for painting it. The Japanese military executed these two men for painting a rape scene. And for us to avoid this is very very difficult. How do we tell the story of a man who gets killed because of this painting? So in the end you are showing Minnie Mouse and Mickey Mouse doing some tango together. And you ask yourself, would an army execute somebody for a painting like that? That shows no context.
[Source]
OKS: This is the turning point of the show: this person gets executed because of a graphic – he's saying "I will paint this regardless' I'm not going to save my life, I will paint the reality around me." For me it's like that's the turning point of the musical. But we can't show the graphic. And it's weakened.
That's what's happening with a lot of the MDA requests that we're having to filter. And I feel the idea of a stage manager allowing some things to be seen and not seen. You want to pick your nose, that's not allowed. You want to sit with your legs kangkang [Malay for spread out], that's not allowed. You want to move your arms like this, that's not allowed. Everything's muted. You're not allowed to express real anger. 
But what about all the nudity that took place in Proton Theatre's Dementia?
OKS: Today it's OK to show nudity. Before it wasn't allowed. So there's progress, but the illogicality of censorship still remains.
Like, if there's actual physical contact between nude people, what happens? I find it very arbitrary that it's OK to be nude on stage but not to have human contact – even if the show is about an emotional longing to be held. So if two people were naked and they held each other, it becomes "real" for the MDA.
And we get requests from the censors like [in the case of a scene in Hotel], "What kind of moans are coming from the bed?" And then I'm encouraged to be a voyeur, to think about these strange things. Two people are making love in a hotel room, and they're saying, "Can you describe the moaning?" It's horrible. It makes something natural into something unnatural.
And I feel it's a euphemism: "passed with edits". It's a euphemism for censored. I think it makes the public think that it's rather progressive, but it's not passed at all. 
[Source]
OKS: I realise Tony Manero was not allowed because the organ was screen. As long as you cover everyone's genitalia, it's fine.  (Lost Tribe was very interesting as a film, because there were lots of sex scenes but there were no organs in sight.) In Tony Manero – yes, there are some violent interactions between two individuals. But it's also to show Pinochet had imprinted violence on the population as everyday.
And the violence of the Chilean show that you saw: they're high on cocaine, they're joking about the Pope being a pedophile, but they're not in their proper senses, they're on high emotionally. And I find it very strange. They're all high sniffing coke, but they must still speak like real people. They're high. How can you take a drunk man's statement as the truth? 
[Source]
OKS: I think first of all the context is very very important. The fact that our censors were not considering context at all means there is an impossible situation actually put forward. 
So I think it's very difficult to show Singapore is a global hub, because all these companies are laughing at us. I feel embarrassed to be going to our international guests with such absurd demands from the censors, like, "Can you please cut the blowjob?" or "Can you do less?"
And in the end this censorship is a real mockery. It's an international embarrassment for Singapore to be shown to be so childish.