This weekend, the talk of the town (at least amongst us artsy types in Singapore) has been the fact that the SEA Games opening apparently ripped off an installation artwork by Cultural Medallion recipient Lee Wen.
This is his original artwork:
Lee Wen
Ping-Pong Go Round
1998
[Source]
Lee Wen with his Ping Pong Go-Round at the Singapore Prudential Eye exhibition 
Photo by Marina Bay Sands
2015
[Source]
And this is the work that was exhibited at the SEA Games opening:
Members of the public having a go at table tennis at the SEA Games Carnival outside the Sports Hub
Photo by Robin Choo / TODAY
2015
[Source]
What makes this whole thing even more damning is the fact that Lee Wen's gallery manager claims that she actually proposed that the original artwork be installed in the very same spot: 
I could write a whole opinion piece about this, but fortunately, Kirsten Han's done an excellent job already at The Online Citizen:
This incident is exactly what gets Singapore's artists worried. No one gets into the arts to get rich, but everyone has bills to pay. How are artists expected to survive and thrive in an environment that might choose not to respect their rights?
"This has been an issue for years related to creators' moral rights. Institutions should be protecting the creators. Lawyers will argue in whatever way they wish but the rights do belong to the artist," wrote theatre director Alvin Tan, who started a closed Facebook group to talk about what should be done if Lee doesn't receive compensation for his work.
Singapore has long claimed its ambition to be an arts hub, and a "Renaissance City". It's a project that can never be achieved without the buy-in and active participation of the city-state's artists. International art fairs and performances might bring a vibrant global aspect to Singapore's image, but it is the local arts community that perpetuates the spirit of creativity that is needed to establish the country as a centre of artistic merit.
These artists in turn need our support. Some assurances are needed for the arts community to flourish, chief among them the knowledge that the integrity of their work will be respected and protected.
What Kirsten doesn't mention, however, is that this isn't the first time such a case has occurred.  About a year ago, there was a scandal around the Singapore Tourism Board when design firm DoodleRoom revealed that they had "recycled" their design for Singapore Art Week 2013 for Singapore Art Week 2014, again without payment or acknowledgment.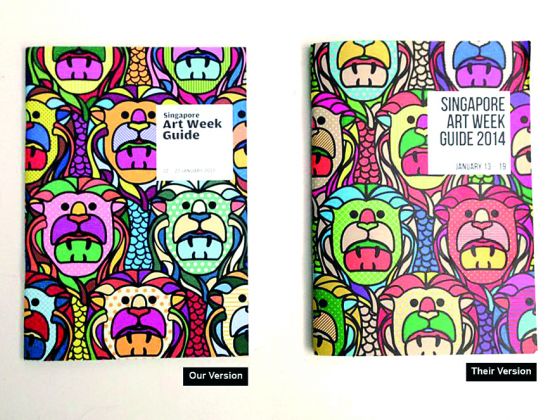 Singapore Art Week Guides 2013 and 2014
Photo by DoodleRoom
[Source]
According to this report by Elizabeth Low, the STB pointed out that using the artwork was in line with industry norms and it had "the full rights to use, reproduce and modify it." But popular consensus around the event was that regardless of the legality of the practice of "recycling ideas", this was still a pretty low-class move of the STB. In an event celebrating Singapore as a hotspot for art and creativity, they'd just shown themselves to care more about expediency than creating something totally new or remunerating designers for original work.
Also, in the end, nothing came of the controversy, at least not publicly. No payment, no blaming anyone, no formal apology. No commitment to not doing this kind of thing again.
I'm bringing these issues up on this blog because SIFA is - like the two organisations I've mentioned earlier - a public entity, a taxpayer-funded institution, part of the greater network of the government and the civil service. And although (to my knowledge) it has never been accused of stealing an artist's work, I can easily imagine a scenario in which this might happen.
You see, there's no nefarious behind-the-scenes team that deliberately tries to rob artists and designers of their creative work. Everyone has fundamentally good intentions. All these mess-ups happen because of miscommunications and rushing and cost-cutting and simply forgetting where a particular idea comes from. These are slip-ups, and it's only thanks to social media that they're getting exposed so quickly.
So perhaps the civil service can set up a set of standard operating procedures about what to do when such a mistake occurs, based on the principle that we, as a wannabe Renaissance City, do value original ideas and artistry. Something along the lines of:
I. Give credit where it's due.
Even if you're legally entitled to recycle someone else's idea without credit or payment, you should acknowledge where that idea came from. 
II. When mistakes are made, they should be fixed with compensation, not removal of the artwork.
I think removing the ping-pong table artwork is something of a lose-lose situation. The public is deprived of the work, and the artist loses a chance to showcase his work (which could be attributed to him through the simple addition of a label).
And for those folks who say that public institutions can't pay artists - well, that's really hard to swallow when your country's sitting on huge federal reserves and many artists are willing to be compensated with three-figure or low four-figure sums. Accommodating this in a budget might not be easy, but it's the right thing to do. And if you don't put your money where your mouth is, who's going to believe you care?
I'm told that SIFA's trying its damnedest not to make a mistake like this in the future - it's got policies of tracking down credits for everything, as it jolly well should.
But if it makes a mistake in the future? It's okay. It's only human.
But if you make a mistake and you have resources, and you don't try and fix it? That's inhuman. And we don't want any of that, thank you very much.