So here are some of my thoughts on watching Friday night's show! 
Please take note that while I've seen excerpts of Kathakali on screen and attended the Discover the World of Kathakali event at SIFA Shares, this is my first ever Kathakali performance.
Also take note that I am a terrible, terrible person.
[Source]
Prologue: War is approaching
Santha Bhaskar comes out with another guy and lights the sacred lamp. This ain't an ordinary SIFA show; it's a ritual.
Oh look! It's the handsome students from Kerala Kalamandalam! The ones we saw exercising at 5:30am last time!
[Source]
It seems that it's traditional, before a Kathakali performance, to do a kalaripattayu demonstration. That's why these guys are stripped down, leaping, wrestling.
They're also doing mime. Beating drums? Bearing quiverfulls of arrows? I'm not sure.
I'm rather disheartened by the use of canned music here. I thought they said they were bringing in musicians? They've even added "shwing" noises when the boys are clashing their invisible swords, which is hella tacky.
Scene 1: The game of dice
[Source]
Hey, the musicians are here! Guess we were reserving them for the big shots.
Before the action starts, there's an intro sequence. Guys hold up a colourful rectangle of fabric – a curtain of sorts, and lower it to gradually reveal the incredible details of the regalia of the dancers.
This is super-dramatic. I wouldn't have thought it, but it really does enhance my appreciation of the elaborate costume.
On the other hand, the way the dancer peeks tantalisingly over the curtain does kinda remind me of Kim Kardashian lowering her dress.
[Source]
And now the game of dice itself is about to begin. This is a super-iconic scene of the Mahabharata cycle: where Yudhisthira (one of the five heroic demigod princes of the Pandava clan) gambles away his fortune, his kingdom, his brothers, himself and his wife to the villainous Kaurava clan.
I've seen this performed twice before: in Therukoothu and in contemporary performance. The Kathakali version is rather more dazzling, with all the dancers gathered together in their finery: their painted faces, their paper beards, their pyramidal crowns, their haloes, their bangles, their long locks of hair, their voluminous skirts…
They actually look kind of like trussed up Christmas trees. In a good way, mind you. And under all that finery, the Pandava princes are actually very expressive with their emotions, showing their fretful sorrow when they lose their bets and get enslaved.
[Source]
Oh, and remember how Dr Kaladran told us that no-one talks in Kathakali, except the demons, who get to roar? Duryodhana, the Kaurava prince, brays. I'm not kidding. There's no other word for his expressive wordless utterances. It fits his name (which refers to the fact that he screamed like a donkey when he was born) but it genuinely sounds like the way they parody the noises of self-satisfied Edwardian gentlemen in Blackadder Goes Forth: smarmy, privileged pleasure.
Ah, and here's the iconic bit, when Yudhisthira's wife Draupadi is brought in. Here she's called Panchali. The evil Dussasana goes into the stalls and actually drags her out of one of the exits.
The usher looks startled. Surely this was rehearsed?
[Source]
Panchali's costume is relatively Spartan – indicative of the purity of her beauty, perhaps? - but it's harder for me to swallow. There's no attempt to hide the masculinity of the actor's face-shape, and the expressions of the face are stiff and formal, even when she's leveling deathly curses upon the Kauravas.
Also, there's the classic scene where Dussasana tries to disrobe her, and she prays to Lord Krishna to save her, and miraculously her sari extends infinitely so that no matter how much fabric is unwound, it is impossible to expose her skin…
She's not even wearing a sari in this version. The drama is somewhat undercut when the bit of cloth that's pulled off is something like a sash.
Ah well. Signifiers > signified, like what Dr Kaladran said.
And now the big bad Kauravas are getting up to do a little victory dance. They're really the stars of this scene. (Said dance is not actually very intimidating. That's what happens when your costume makes you look like a Daruma doll.)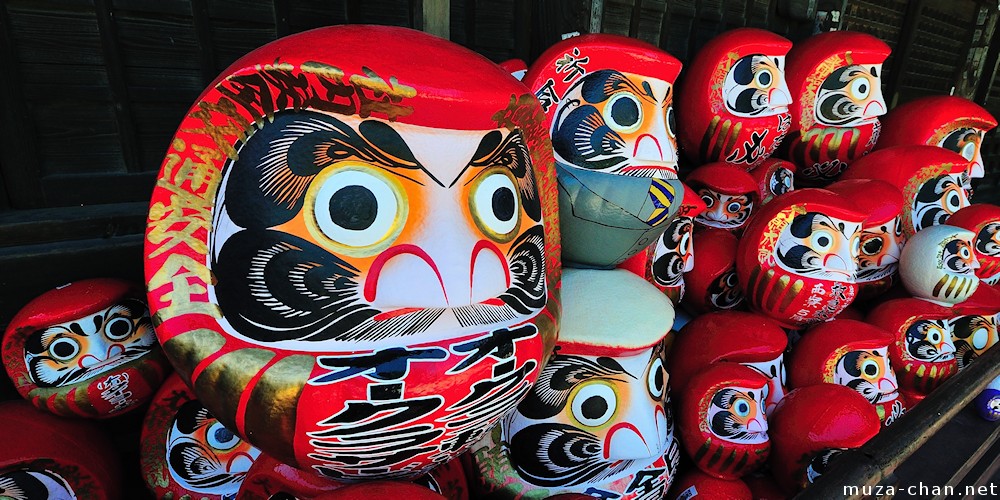 [Source]
Scene 2: The slaughter of Dussasana
We're skipping forward 13 years, after the Pandavas have gone in and out of exile as part of their bet with the Kauravas, and now they're waging full on war as part of their revenge.
Remember how Panchali cursed the Kauravas? She laid a special curse on Dussasana, vowing that one day, Bhima (Yudhisthira's brother) would tear him to pieces and that she would wash her hair in his blood.
AND THAT'S EXACTLY WHAT WE'RE GONNA SEE.
[Source]
We had Bhima in passive mode earlier. Now, for warrior mode, they've got a new actor, with an even more elaborately painted face and a whole new set of moves to bust.
And now he's battling with Dussasana, who's popped out of that exit, startling the usher once again! Holy hell, I just noticed his eyes are red all the way through, matching his face and hair and woolly jumper. He must be using the stinging leaf, just like Dr Kaladran said. Ouch.
By the way, his woolly jumper does make him look like he's wearing the skin of Elmo.
… Wait, those are the cudgels they're using for battle? They're kind of tiny. They look like bowling pins.
Oh man, now Bhima's got Dussasana at his mercy. He's summoned the spirit of Narasimha, the lion-man avatar of Lord Vishnu, and his claws are coming out and…
ZOMG DID YOU SEE THAT?
HE JUST RIPPED DUSSASANA OPEN AND THERE'S A SACHET OF BLOOD INVOLVED AND HE IS SMEARING THE RED LIQUID ALL OVER HIS FACE AND HANDS AND COSTUME
AND NOW PANCHALI HAS COME OUT AND HE IS USING HIS BLOODY HANDS TO COMB HER LOCKS OF HAIR
[Source]
KATHAKALI = BEST THEATRE FORM <3 <3 <3
(Ooh girl he's pinned up your hair like that? That is not a good look for you.)
Epilogue: Panchali's soul is finally at peace, and the city rejoices.
This bit is called the Mohiniyattam: ten women – not men in drag, this time! – come out and do an extended dance of joy across the stage, paying court to us and to one another.
We're featuring homegrown talent here: these are students from Bhaskar's Arts Academy. And they're nice, but… I dunno, after all that schlocky horror, it's a bit of an anticlimax.
Here's a suggestion to Mrs Bhaskar: every dance ought to have a disembowelling scene. Imagine these girls, in their beautiful green and magenta dresses and jasmine blossom headpieces, and strands of bloody entrails dangling from their hennaed fingers…
IT'D BE AWESOME.
One final point: I was honestly shocked to see a lot of empty seats at the show. Not in the circle seats or the last rows, mind you, but around me – in the pricey $60 category.
I wonder why? Tay Tong told me Kathakali performances usually go on for just one night in each city, so were two nights maybe a bit much? And there's the fact that what with Winterreise and Revolutionary Model Play 2.0 and Dance Marathon and the political rallies happening every night, we spread ourselves kind of thin. Or perhaps they were tickets distributed to blasé sponsors. Or maybe sixty bucks is too much for the average person who'd love a show like this…
Anyhow, thanks to Swee Leng I got my parents-in-law discounted tickets for Saturday night's show. Just wanna make sure our wonderful Kathakali artistes aren't performing for the ghosts.