[Source]
I just wanna say from the outset that the title of this play's a trifle misleading. It sounded like we were gonna get a reinterpretation of one of the revolutionary operas from China's Cultural Revolution, or at least a show in which this unfamiliar genre and dramatic form were front and centre of the performance, rather in the way Khmer dance got featured in Ong Keng Sen's The Continuum: Beyond the Killing Fields.
What playwright Zhao Binghao has given us instead is a scripted investigation into the life and legacy of Jiang Qing, the fourth and last wife of Chairman Mao, who was seen as the architect of the Cultural Revolution and the revolutionary operas. Which is kind of disappointing to me, because I know very little about the revolutionary operas, but I have read/watched a Singaporean play about Jiang Qing.
Madame Mao's Memories by TheatreWorks, 1991
[Source]
Zhao's treatment of this work, however, is decidedly pomo. He's written himself into the play under the name of a fictional writer, Yu Zhongkai, explaining how he came into this project unwillingly, persuaded by a friend into drunkenly watching The Red Detachment of Women, which opens up a floodgate of memories for him: images of Jiang Qing on stage, on screen and in the docks at her trial for treason; the glimpse of naked female skin that awoke his teenage lusts when he watched in a cinema with his dad.
And so he tries to uncover Jiang Qing's legacy, excoriating her. And he finds himself in a debate, not with her, but with one of her early biographers: the American Roxane Witke, who interviewed her and published a rather complimentary, intimate portrait of her in 1977, Comrade Chiang Ch'ing.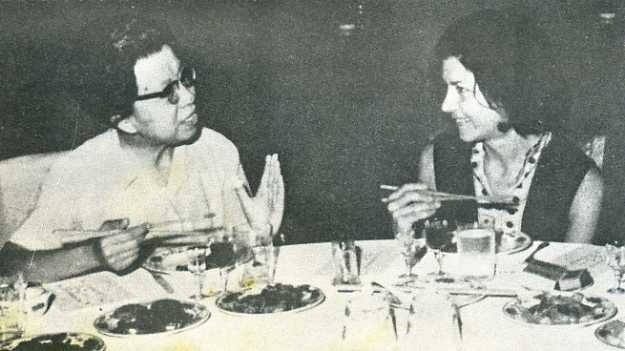 [Source]
Director Wang Chong adds yet another layer to the pom-ness. As Deonn Yangsaid in our interview, he's gleefully seized upon the fact of LaSalle's multinational, multiethnic character and attempted to make something universal out of the script.
That means that the Yu Zhongkai (our stand-in for the playwright) is played by a white Frenchman, Raphael Lecat, in a white labcoat and capris.  It also means Roxane Witke is played by an Indian Singaporean, Rebekah Sangeetha Sorai, in a blue salwar kameez. It also means Jiang Qing is played by a Korean with a bleached androgynous bob, Kathy Han. She's wearing a Mao suit.
Everyone else (playing a multitude of characters from Jiang Qing's life) is wearing Mao suits and/or national costume. It honestly looks kind of like a Racial Harmony Day concert.
To accentuate their diversity, almost everyone, during monologues or confessions, drifts into other languages besides English - French, Tamil, Malay, Mandarin, German, Filipino. 
We've also got the use of video. There's four video cameras on stage, all live, so that characters can zoom in to interview each other, flashing huge close-ups of faces on a mammoth screen made out of tea-stained newspaper. Then we've got the use of camp. Whenever someone dies, he or she flings a water balloon full of blood on the floor. And one member of the Gang of Four, Zhang Chunqiao, is portrayed by a baby doll who clambers over the people he interrogates. 
Then we've got the artificial rain.
[Source]
There's a Chinese saying that the Cultural Revolution was "ten years of harsh wind and heavy rain", and Wang Chong's interpreted that literally by having 3,000 litres of water falling from the ceiling throug the course of the show. The whole stage gets wet, the water mingles with the fake blood, and all the actors end up with rose-coloured clothing (except Sangeetha, whose salwar kameez seems impervious to stains).
All put together, these effects create quite a spectacle. But they're also a jumble of signifiers that distance us from realism and intimacy and humanness, and from any kind of ideology in the end.
As one of my friends said in a post-show conversation, if this work were to be construed as a piece of propaganda, what would advocate? Would it stand for anything.
There's a little concluding statement at the end from one of the characters.
Roxane Witke (Rebeka Sangeetha Dorai): Jiang Qing didn't fight for power. She was given the power by Mao and the masses. The Cultural Revolution was a stage for her to act on, and she was an actress, and only only an actress.
That's a rather specific exoneration. Since we're making this piece universal, is that a defence of tyranny, within and beyond the worlds of art?
Mao Zedong's widow Jiang Qing in the dock during her trial at Beijing's Supreme Court in December 1980
[Source]
So yeah, I do find the work frustrating when I'm thinking about meaning. But in terms of form and execution, I'm pretty happy. There's plenty to look at. The young actors turn in good performances - I especially like Kathy Han's intensity as Jiang Qing, as when she delivered a description of the night, when as a child, she was locked into a Confucian temple by a dormful of boys. But that was delivered in Korean, and everything sounds better in Korean.
There's some really fun split-screen stuff going on when multiple characters are sharing their accounts of their activities with Jiang Qing. There's play with perspective: sometimes the camera is accusatory, sometimes it takes the part of the victim when it's at the bottom of a tangle of angry bodies, sometimes it shifts from face to face amidst the human tangle.
And of course, there's the fact that this show was done here, in Singapore - Wang Chong says he couldn't have done it at home in China - and that it was done with emergent actors, who're learning tons from this.
From left to right: Ng Yulin, Rebekah Sangeetha Dorai, Raphael Lecat, Deonn Yang, Kathy Han, Danielle Lacanilao Cutiongco
[Source]
Of course, as I said, I wish I'd clips of the original revolutionary operas - I would've liked to see more of them, mind you. But that's the problem with staging a historical work: everyone wants history to be interpreted through their lens, to say the things they want to say. So we're frustrated when an artist presents his or her perspective and it doesn't even address the same questions we're asking.  
The exact same thing happened back in 2012 when Zuni Icosahedron teamed up with DramaBox and SOTA and staged One Hundred Years of Solitude 10.0 - Cultural Revolution. Old folks turned up in droves and got spitting mad when the show turned out to be a movement thang, with no explicit references to the horrors of the Cultural Revolution (or to Latin American magical realism, either, but they didn't give two hoots about that).
So maybe that's what's at the core of this piece. Not a question of who this woman was, and what she stood for, but how we can attempt to perceive her. How we approach the past, and what kind of questions we can ask of it.
And the fact that sometimes, it's better to just sit back and enjoy the thrill. Dance, ladies, dance!