The week before The OPEN, folks were complaining that ticket sales were slow. No complaints about that now – The OPEN passes sold out before opening, and performances have been playing to packed houses, with overregistration *and* wait-lists and queues for single-entry passes at some of the talks and films.
One such oversubscribed event was Toyo Ito's talk. Once they got to 400 registrants, Noorlinah and Tay Tong had to book themselves a bigger venue. SOTA Theatre, here we come!
And to make things easy for you, I'll just jump ahead to what Ito-san said the role of tomorrow's architects is:
1) To create architecture not only as a product but also as an activity.
2) To aim to overcome modernism architecture by making architecture open to nature.
I'm simplifying because honestly, Ito-san's talk was not terribly gripping – slow translation issues and a big room that negates intimacy will do that. Also, rather than focussing on ideas, he was basically showing off his recent works.
He started off with his creation of temporary housing after the earthquake in Japan in 2011. 150,000 units had to be set up in Fukushima directly after the disaster, and half of the people stranded are still in there.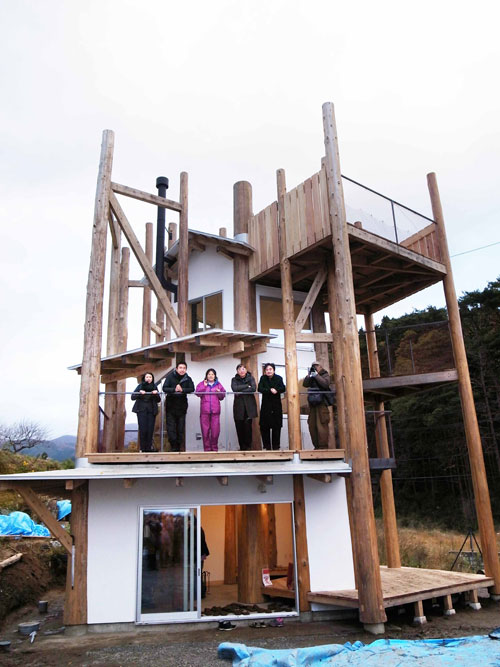 Minna-no-e / Home-for-All
[ Source]
One of his works here was the Minna-no-e (Japanese for "Home-for-All") as a way to allow the displaced elderly to overcome their isolation: a community house that encouraged connections through its open concept design. Before going into construction, he took care to consult with the elderly about what they actually wanted.
TI: When we make this kind of architecture, we like to make it with the people who make this facility. Because often all the architects say we are making the architecture for the people, but it's really their own vision and concept.
Another series of works were aimed at reviving Omishima, an island whose population had dwindled from 12,000 to 6,000 (Wikipedia says 4,000), with more than half of its residents over the age of 65.
Toyo Ito Museum
[ Source]
This was where he built the Toyo Ito Museum of Architecture and the Ken Iwata Mother and Child Museum in 2011. But he didn't stop there. He also brought in students to renovate the empty houses, turning them into open-concept homes that encouraged natural living; started transformed the abandoned mandarin orange orchards into vineyards.
Moving away from the square artificiality of the 20 th century, where man and nature were opposites, to a fusion of man with nature in the 21 st.
Same thing in his Singaporean condo projects: Belle Vue Residences and CapitaGreen. Blocks arranged creatively around a lagoon; glass facades draped with vegetation, sky forests.
TI: Singapore used to be all the way forest. But all the buildings come up and reduced the green area. But we should not be that way. Architecture can increase green with green on the façade, green on the rooftop. Together we can increase the green.
Minna no Mori Gifu Media Cosmos (architectural design)
[ Source]
Also an open-concept library: the Minna no Mori Gifu Media Cosmos, and the National Taichung Theater. Designing for human spaces, etc, etc…
And given that this thing was a keynote speech, I'm kind of amazed that he spent so long talking about nitty-gritty architectural details, project by project, rather than going for big ideas. We didn't need every one of these examples to illustrate his values of architecture for community and natural living. And we don't have all the Deleuzean ideas that characterized the earlier stage of his career, which Wikipedia hints at:
Ito has defined architecture as "clothing" for urban dwellers, particularly in the contemporary Japanese metropolis. This theme revolves around the equilibrium between the private life and the metropolitan, "public" life of an individual.
What does that even mean? I want to know.
And how does VivoCity Shopping Mall fit into his oeuvre and philosophy? 'Cos he designed it, you know. Is he ashamed of it?
VivoCity
[ Source]
There wasn't any time for questions, alas. No space for intimacy, no space for communication.
Which is exactly the problem he's trying to fix in his architecture. The irony.