I think we've established by now that this is a pretty sexy show, haven't we?
But the truth is, it doesn't start out that way.
Sure, the seven dancers we see when we enter the performance space are clad in tank tops and bikini briefs and boxers. But they're a range of body types – lanky ectomorphs, dadbad mesomorphs, wrestler-type endomorphs, and also a single woman (Manju Sharma). They're already moving as we take our seats: each of them takes steps forward or backward, apparently at random: mere particles oscillating on an axis. [Source]
Then the lights dim, and the movement varies – just a little! – because now they start pausing mid-stride, locking eyes with the audience in oddly sultry poses: pulling down their singlet collars to suggest a peek of boob, lifting the trouserholes of their boxers like demimondaines showing off their garters.
They're being feminised – or are they? It might be relevant now to mention that this show has a Pinterest page, composed of images of masculinity that Mandeep Raikhy's selected from (mostly western) pop culture and art history. So he's drawing on this library of icons for images of how men have been objectified/essentialised through time.
Painting by Lucas Cranach the Elder
[Source]
By now the grid is breaking up, starting to turn into a wave, rotating a hundred and eighty, dissolving, bodies crossing from one side of the stage to another in strange combinations, from contraposto to the Ministry of Silly Walks. (There's one duo march, in which two men crossed, butt to groin. Are they segments of the titular ant?)
And somehow we move into playground games: kabbadi, tag, kids running backwards and forwards and round and round across the playing space. Diniz Sanchez, the wrestler-bod, stands in the centre and tries to block everyone else from reaching the opposite wall with his bulk: initially, he intimidates them, but then loses control of one, then another, and they're leapfrogging over his head now, as the playground descends from tyranny to anarchy...
[Source]
We've also got an odd show-me-yours-and-I'll-show-you-mine sequence: boys using their hands and elbows to measure the width of their necks, the split of their thighs with one another. The discovery of each other's bodies, but less erotic or curious than competitive. A tense moment when the woman's involved, though – she's actually got lady-lumps, but is she a tomboy, a transman, a woman playing the part of a man, a woman in a man's world? She's never victimised, never objectified more than the men, so we're never sure.
And now for the sexy bit. Brace yourselves. Sanchez starts grappling with Parinay Mehra, aka Mr Lankypants. Mehra's swings go wild, his hits miss, he falls to his feet, but he gets up, conceding nothing. Sanchez pulls his punches, stops short of hurting his partner. Violence without hurt.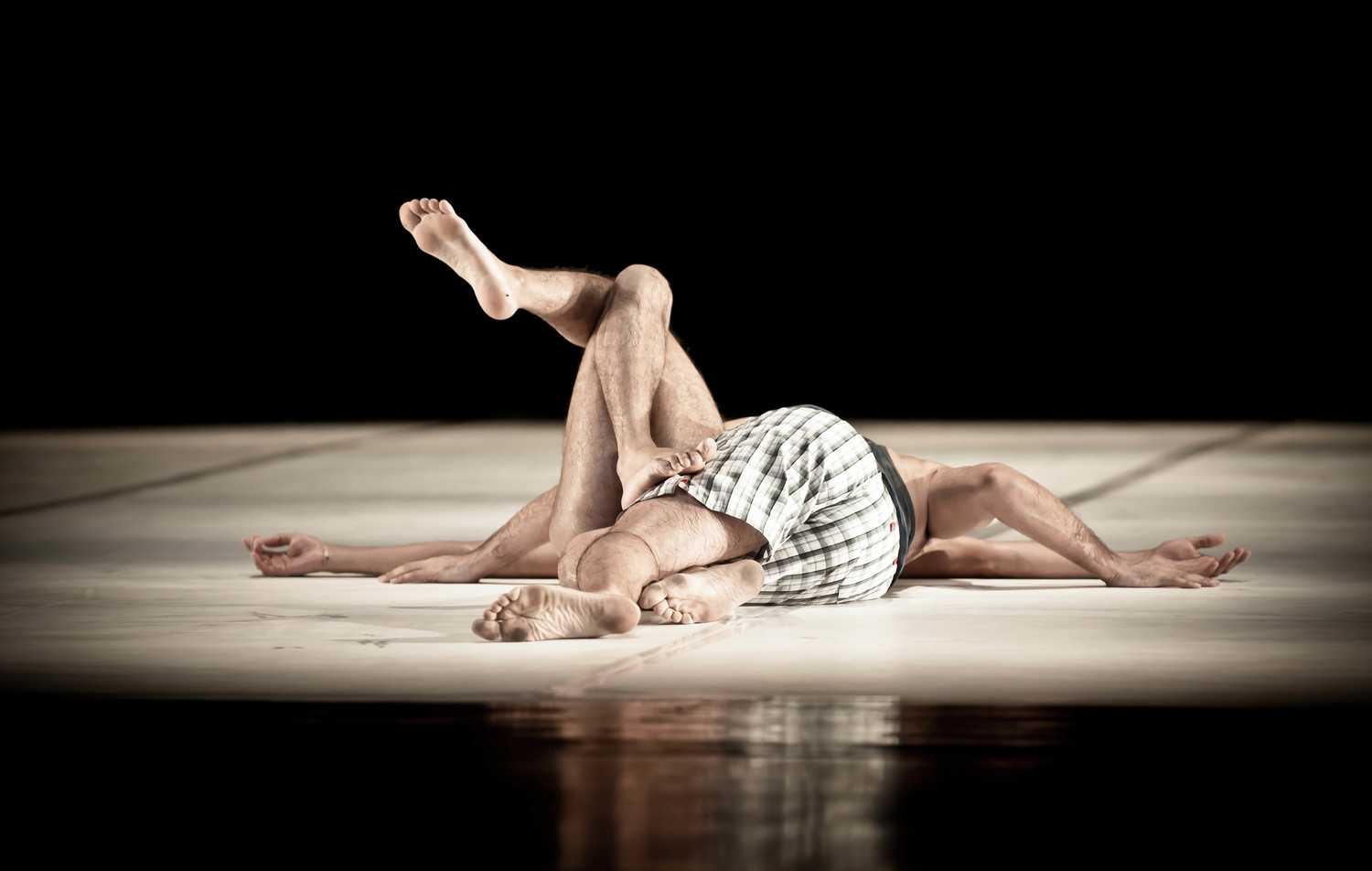 [Source]
Then the duet turns tender. Physical threats turn into tentative brushes of the fingers, bodies slide against each other, exploratory, comforting. Rahul Goswami (aka Mr Nothing But Black Bikini Briefs, Yum) has a more explicitly romantic hetero duet with Manju Sharma, legs all folded across each other like recumbent androgynes.
[Source]
But then there's a trio of men, and there's another duet between Goswami and Mandeep Raikhy (I think?) and the order of romance descends again into anarchy, chasing each other across the space…
Until we return to the original line of the opening. Oscillating particles, once again. It is as if love never happened – or perhaps the cycle is ready to continue once more.
***
It's easy to read this piece as a coming-of-age tale: a narrative of learning masculinity and manhood: being schooled in fighting, yet discovering the capacity to love (both heterosexually and homosexually) – and also the capacity for abuse of those you love.
But I think it's a little more complex than that. When interviewed, Raikhy speaks of the project as a personal exploration of themes and stereotypes – and honestly, I think a lot of it is purely aesthetic: trying out the possibilities of what one can do with all these bodies in one space. 
Nor should we forget that the whole thing started as an intercultural experiment – Japanese composer Yasuhiro Morinaga created the excellent score (electronica and found sound, including a bustling Indian marketplace) and Swiss lighting designer Jonathan O'Hear lit the lights. Plus, one of the dancers – Sanchez – is Spanish (I think).
Raikhy himself is a bit of a cultural in-betweener. He started out learning jazz dance in New Delhi at the age of 19, spent years in London doing contemporary dance and only returned to India in about 2009. His bio says he's exploring the relationship between bharatanatyam and contemporary dance, but there's very little that's overtly Indian in this work – I'd assumed the wrestling bit was kalaripayattu, but no, the dancers told me, it's just what comes to them naturally.
Yet there is something rather Indian about this piece. You see, I was wondering at one point what this work brought to the table that was actually new. Western choreographers have explored masculinity over and over, and been far sexier and more explicit on stage. Mehra tells me the show's travelling to Germany soon – will they find this work arousing, or kinda tame?
But talking to Nanako Nakajima, who's been the dramaturg for all these works, I realised, yeah, everywhere's gotta have its own revolutions. India's going through a sexual revolution right now: this dance, with its tentatively queer male eroticisms, is part of it.
And lord knows, Singapore's sexual revolution isn't done yet. That's why MDA slapped an R16 rating on it. And if you think that doesn't matter, then you have no idea how much we depend on SOTA students to fill up seats. :)
And you've got to wonder – at what point does an MDA official decide that something's too hot for a 15 year-old? There wasn't any kissing or nudity here, no declamations from Oscar Wilde or Larry Kramer.
[Source]
Just tenderness. Contact. The discovery of the possibility of love. 
In our society, that's nitroglycerin. Handle with care.